The Nutcracker Experience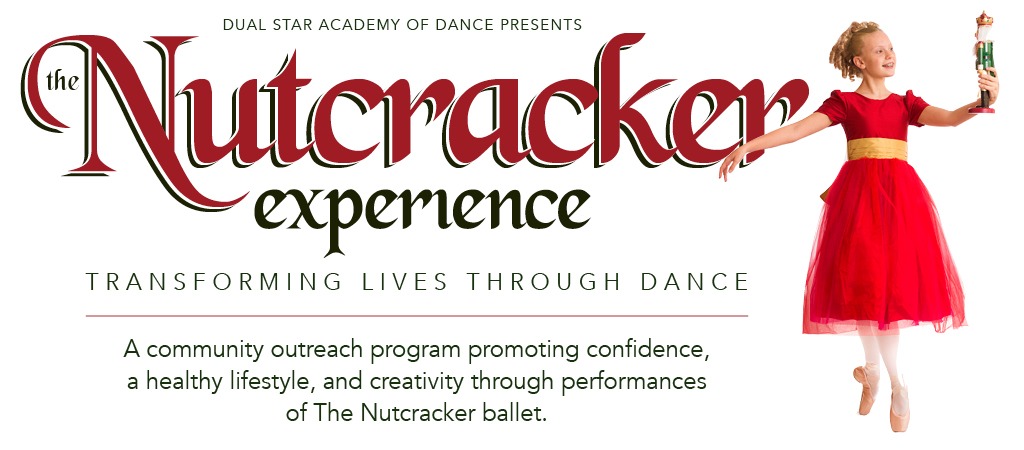 A Community Outreach Program, Transforming Lives Through Dance  
At Dual Star Academy of Dance, we believe performing is vital to a dancer's education. The Nutcracker Experience introduces students and parents to narrative ballet, foster a better understanding of ballet as well as bring the magic of the Nutcracker to audiences who may not have the opportunity to see a live production this holiday season. Students have multiple opportunities to perform in the community and at the studio during the holiday season all while promoting confidence, a healthy lifestyle, and creativity.
OPEN AUDITIONS | Sun. October 1st, 2017 
Ages 4-5 (Pre-Ballet): 11:30am
Ages 6-8 (Ballet 1-2): 12:00pm
Ages 9-11(Ballet 2-3): 12:45pm
Ages 12+ (Ballet 3-6): 12:45pm
All rehearsals will be held on Sunday afternoons, as well as the occasional Friday evening, at Dual Star Academy of Dance beginning October 8th – December 3rd. We will have an in studio performance as well as multiple outreach performances throughout the Denver Metro Area.
Cost: $250
Please email Miss Ellen: Ellen@dualstardance.com with further questions.