The Nutcracker Experience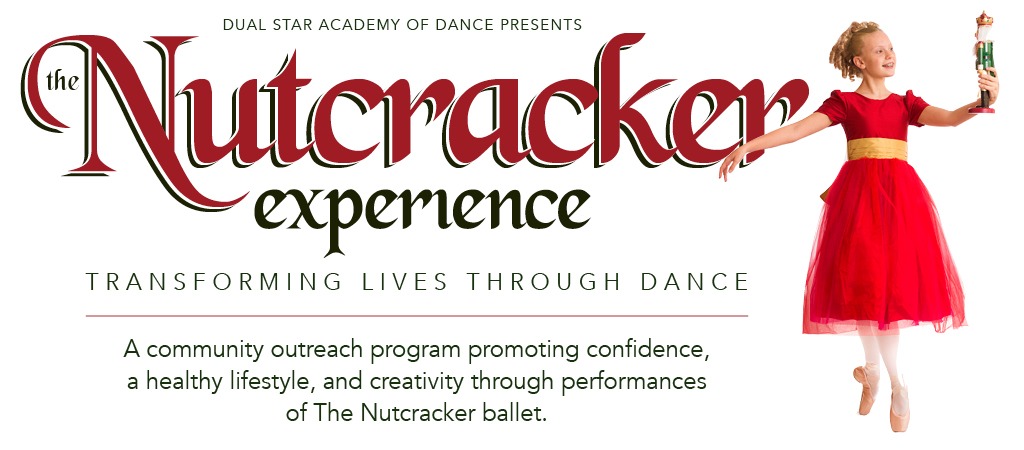 A Community Outreach Program, Transforming Lives Through Dance  
At Dual Star Academy of Dance, we believe performing is vital to a dancer's education. The Nutcracker Experience introduces students and parents to narrative ballet, foster a better understanding of ballet as well as bring the magic of the Nutcracker to audiences who may not have the opportunity to see a live production this holiday season. Students have multiple opportunities to perform in the community during the holiday season all while promoting confidence, a healthy lifestyle, and creativity.
PARENT INFORMATIONAL MEETINGS
Saturday, August 17th @ 1:30pm | Saturday, August 24th @ 2:30pm
Location: Dual Star Academy of Dance
OPEN AUDITIONS: SUNDAY, AUGUST 26TH
AUDITION TIMES:
Ages 4-5 (Pre-Ballet): 12:30 – 1:15pm
Ages 6-8 (Ballet 1-2): 1:15 – 2:00pm
Ages 9-11(Ballet 2-3): 2:00 – 3:00pm
Ages 12+ (Ballet 3-6): 3:00 – 4:30pm
 (pointe shoes if applicable)
The Nutcracker Outreach 2019 Performance Schedule 
Sunday, November 17th @ 2pm
In-Studio Performance and Potluck
Dual Star Academy of Dance
Saturday, December 7th

@ 1pm
Eaton Senior Communities
333 S Eaton St. Lakewood, CO 80226
Sunday, December 8th @ 6pm
Holly Creek Suites Retirement Community
5500 E Peakview Ave. Centennial, CO 80121
Saturday, December 14th

@ 1pm
Brookdale Greenwood Village
6450 S Boston St. Greenwood Village, CO 80111
Sunday, December 15th @ 5pm
The Parker Libary
20105 Mainstreet, Parker, CO 80138
Please email Miss Ellen: Ellen@dualstardance.com with further questions.