The Nutcracker Experience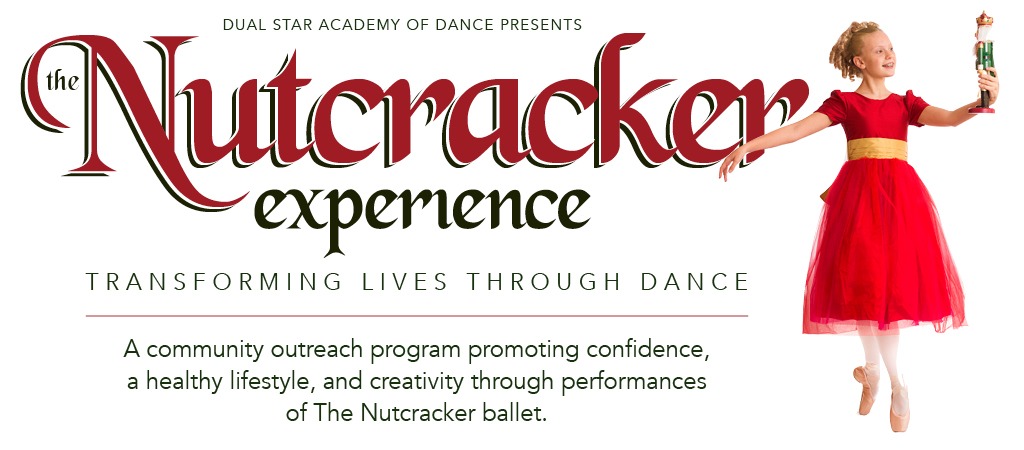 A Community Outreach Program, Transforming Lives Through Dance  
At Dual Star Academy of Dance, we believe performing is vital to a dancer's education. The Nutcracker Experience introduces students and parents to narrative ballet, foster a better understanding of ballet as well as bring the magic of the Nutcracker to audiences who may not have the opportunity to see a live production this holiday season. Students have multiple opportunities to perform in the community and at the studio during the holiday season all while promoting confidence, a healthy lifestyle, and creativity.
PARENT INFORMATIONAL MEETINGS | Sun. August 19th & Sat. August 25th
OPEN AUDITIONS | Sun. August 26th, 2018 
Ages 4-5 (Pre-Ballet): 12:30pm
Ages 6-8 (Ballet 1-2): 1:00pm
Ages 9-11(Ballet 2-3): 1:45pm
Ages 12+ (Ballet 3-6): 2:30pm
Rehearsals will be held on Saturday mornings and Sunday afternoons, as well as the occasional Friday evening. They will all take place at Dual Star Academy of Dance beginning September 15th – December 3rd . We will have multiple outreach performances throughout the Denver Metro Area, culminating with an in studio performance. Please email or call with further questions.
Cost: $250
Please email Miss Ellen: Ellen@dualstardance.com with further questions.