Dual Star Birthday Parties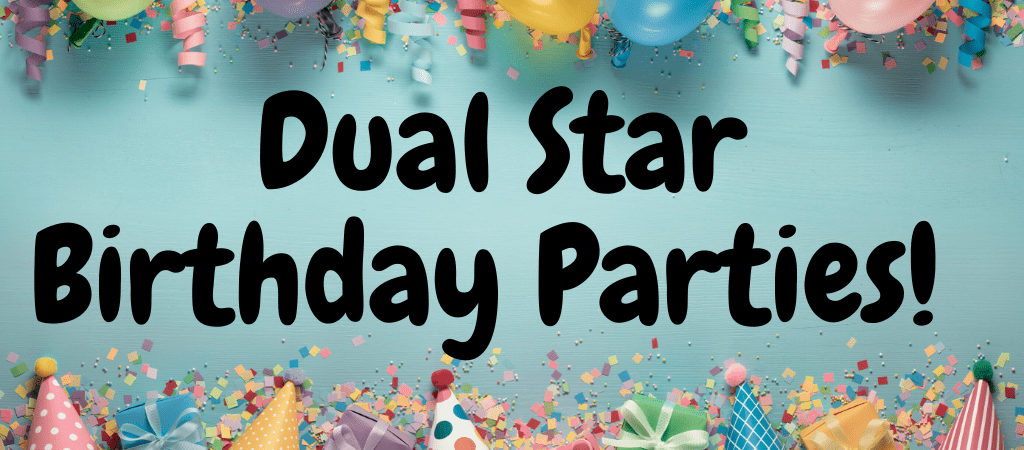 Dual Star offers birthday parties! We can customize a birthday to fit your theme! Dual Star offers party packages for dance birthdays as well as puppet birthdays.
DUAL STAR DANCE BIRTHDAY PARTIES:
PACKAGE #1 $135
1 hour of dancing for up to 15 kids. Includes stretching, games and a dance that is incorporated with your theme.
PACKAGE #2 $190
45 minutes  – 1 hour of dancing for up to 15 kids, same as package #1 PLUS 30 minutes use of the lobby area for cake, ice cream, presents, etc.
*B
irthday
parties can be scheduled
on Saturdays after 1:15pm and all day Sunday.
*Our teachers are the ones that host the 
birthday
parties
, so depending on the date and time you wish to have it on, we will then contact (the teacher you request) or any of our qualified teachers to see if they are available to host on that day/time.
*You may choose a theme if you want
*If you choose package #2 you are allowed to use our lobby area for cake, ice cream food and drinks!
*You are able to bring your own decorations if you wish
*We are flexible on the number of kids attending, but you will need to run that by us first!
Puppets & Things on Strings:

Puppet Shows for Kids Birthday Parties are a big hit here in Denver!
As a parent, you want to make sure your child and his friends have the time of their lives at his/her next birthday party. For many, that means going above and beyond to provide entertainment that keeps the kids fully engaged. With Puppets & Things on Strings performances, Mark keeps energy levels high and gets the kids involved so they feel more like a part of the show than simple spectators. Adults will have as much fun as the kids!
If you are looking to have puppets & things come to Dual Star for your birthday party, please make sure to mention that in your email to Mark!
For more information and pricing please visit: https://www.ventmarkshows.com/ or Email Mark: https://www.ventmarkshows.com/contact/